Aikido of New Paltz is located in southern Ulster County, in the Village of New Paltz, NY.
Aikido is a modern martial art developed in Japan by Morihei Ueshiba, known to his students as O-Sensei (Great Teacher).
The art is known for its fluidity and blending with an attacker, rather than meeting force with force. Through movement and contact based on aiki principles, aikido deals with strikes and other attacks. Its practice may result in body throws and joint locking techniques. However, the cooperative nature of aikido generates a practice in which different body types, ages, and abilities share experiences of joyfulness, power, compassion, and connection.
Aikido, as envisioned by its founder, is not only the synthesis of the founder's martial training, but also the expression of his personal philosophy of universal peace and reconciliation.
The Art of Peace is medicine for a sick world. There is evil and disorder in the world because people have forgotten that all things emanate from one source. Return to that source and leave behind all self-centered thoughts, petty desires, and anger. Those who are possessed by nothing possess everything.
– Morihei Ueshiba as quoted in John Stevens' The Art of Peace.

Aikido of New Paltz is a place to congregate to practice aikido. As such, it is one space where we, as as a community, can develop our spiritual and physical well being and reconnect to the sacredness of the body, mind, spirit and Earth.
Aikido of New Paltz is a chapter of Aiki Shrine for Harmonious Living (Aiki Shrine), a free-church founded in 2007, pursuant to Article 9, Section 180, of the Religious Corporations Law of the State of New York. Aiki Shrine was organized to "practice, promote, perpetuate, disseminate and explore the spiritual teachings, philosophy and methods of Morihei Ueshiba (1883-1969), founder and Great Sensei of Aikido."
Aiki Shrine is a non-denominational community that welcomes all to explore and experience their personal spirituality, as well as physical and personal development, through the practice of aikido. As a free-church, we do not charge a fee to members for participation during regularly scheduled congregational times.
In order to maintain Aikido of New Paltz (lease, utilities, ministration of classes, etc.), we rely on the donations of our members. Suggested donation is $90 per month for adults, and $145 per month for families. In accordance with IRS Publication 526, donations to Aiki Shrine are tax deductible.
Class Schedule:
Adult classes
Mon – Fri: 6 pm – 7 pm

(Friday tailored toward beginners)

Tues: 7 – 7:30 pm (weapons)
Wed: 10 – 11 am
Sat: 10 – 11 am
Kids classes
Our dojo holds Aikido for Kids as a recurring series of 6 Saturday morning classes. This one hour class starts at 11:15 am (after adult class), and is for 7 to 12 year olds. Contact us or see our flyer for current dates.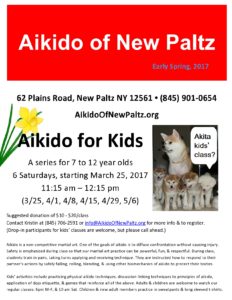 Other classes for children are held seasonally. Please contact us for more information.
We are affiliated with Woodstock Aikido, Kingston Aikido, and Rivertide Aikikai.