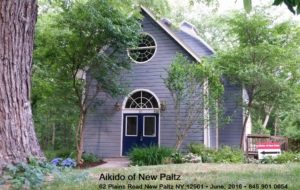 Aikido of New Paltz is a place to congregate to practice aikido. As such, it is one space where we, as as a community, can develop our spiritual and physical well being and reconnect to the sacredness of the body, mind, spirit and Earth. It is a chapter of Aiki Shrine for Harmonious Living (Aiki Shrine), a free-church founded in 2007, pursuant to Article 9, Section 180, of the Religious Corporations Law of the State of New York.
Aiki Shrine is a non-denominational community that welcomes all to explore and experience their personal spirituality, as well as physical and personal development, through the practice of aikido. As a free-church, we do not charge a fee to members for participation during regularly scheduled congregational times.
In order to maintain Aikido of New Paltz (lease, utilities, ministration of classes, etc.), we rely on the donations of our members. Donations to Aiki Shrine are tax deductible in accordance with IRS Publication 526.